Have you heard?  Fromm Family Pet Foods has some exciting news about their new Crunchy O's dog treats & expanded food lines!
Who is Fromm Family Pet Foods?  Since 1904, Fromm Family Pet Foods has maintained a tradition of quiet innovation dedicated to the health & nutrition of pets.  Food safety is their top priority – part of their commitment to all pet parents is their dedication to producing high quality, safe, and consistent pet foods.  They own and operate two dry food and treat manufacturing facilities as well as a wet food cannery in Wisconsin.  They manage every aspect of the process including sanitation & facility maintenance all the way to the lab analysis & formula blending.  They take a long-term approach to their business model to ensure you can rely on products made by their family for your furry family.
Some of their newest innovations include: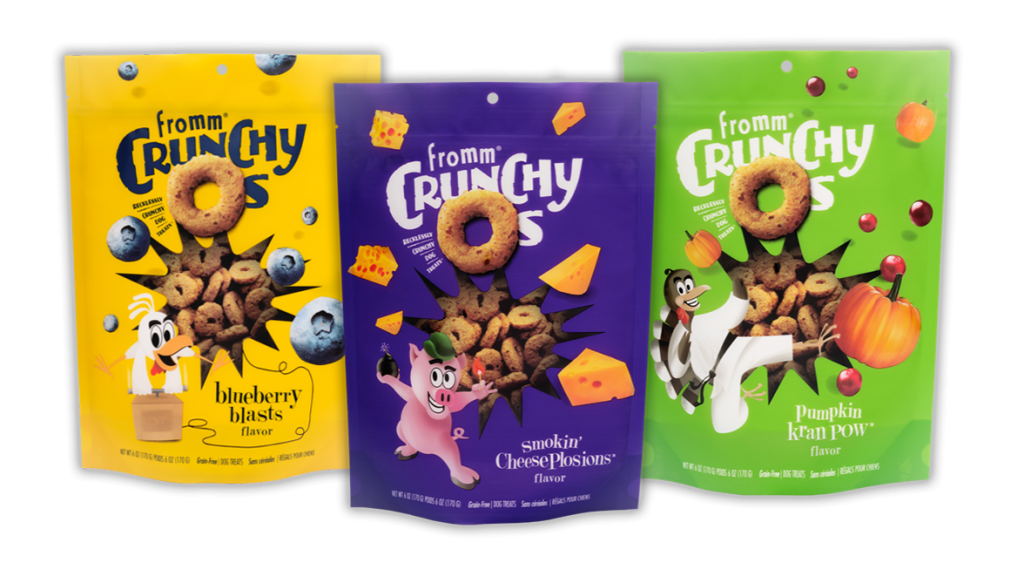 Crunchy O's:

Recklessly crunchy dog treats
Available in three unique flavours:  Blueberry Blasts, Smokin' CheesePlosions, and Pumpkin Kran POW
Fromm's Crunchy O's are such a hit with dogs, it's started a whole phenomenon in the Digital World: #FrommCrunchTime.
They're completely Grain-Free AND only 2 calories per treat!
The full line is carried in many of our stores

Extended line of Cans:

Fromm proudly carries two types of canned dog foods: Shredded & Pate
Fromm's canned lines are a complete & balanced entree for all breeds & all life stages.  These cans are the perfect complement to Fromm's dry recipes or can be a rich flavourful meal by themselves
The Shredded line is Grain-Free
The newest addition to this line-up is the Duck A La Veg pate for dogs

Extended line of Dry:

Fromm offers a wide selection of dry pet foods catered to every pet's specific needs:

Four-Star is a gourmet & variety-driven line
GOLD is based on the life stage & lifestyle of your pet
Classic is a simply complete & balanced line

The newest addition to Fromm's dry line-up is Four-Star Rancherosa, a satisfying, grain-free entree of beef, pork, pinto beans, trout, and lamb together with butternut squash and pumpkin.  A true bonanza of great flavour!
Many of our customers' dogs & cats absolutely love Fromm's products!  With such a wide variety available to choose from, there's something available for every pet's specific need.
Global Pet Foods proudly carries a wide variety of the Fromm Family Pet Foods lines in many of our stores.  Contact your local store here to inquire about product selection & availability.